Food challenges are quickly becoming a thing in today's society, and we aren't complaining! Restaurant after restaurant are opening with insane food challenges that end up with the completant feeling victorious, and rather ill, but it doesn't stop us going that one step further and breaking world records!
Guinness World Records
have been going for over 60 years now and, as you can imagine, the food records held within this time has risen massively. We
 decided to take a closer look at, not only at the record-breaking food challenges, but the frankly obscene foods that these individuals have decided to indulge upon, complete with illustrations. Take a look at their not-so-mouthwatering faves below:
Don Lerman – 28 Ounces of Butter in 5 Minutes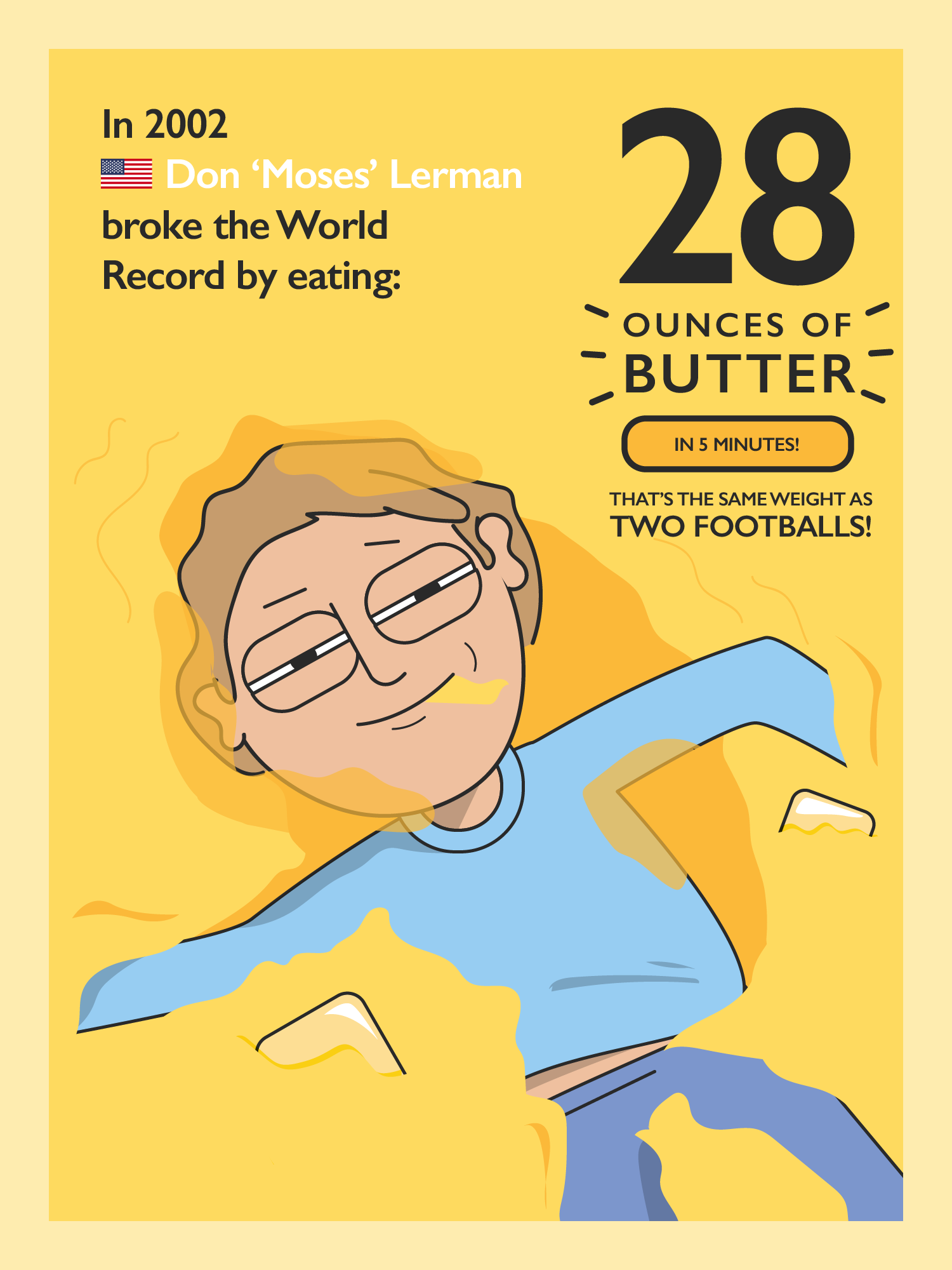 Yep, you read that right, 28 ounces of butter. Regardless of the fact that Don has achieved this in 5 minutes, he has actually consumed 28 ounces of butter – that's equivalent to the weight of two footballs! We're wondering how much butter he's actually consumed throughout his lifetime in order to train for this record-breaking challenge.
Don "Moses" Lerman, a very competitive New Yorker, has achieved a fair few records for eating challenges over the past decade, with food competitions including: 6lb of baked beans in 1 minute and 48 seconds, and munching his way through 11 burgers in ten minutes (that's a lot of bread!); but by far, his weirdest record to date has to be eating his way through 28 ounces of butter in 5 minutes. What's more, it's 28 ounces of
salted
butter! Lovely…
Many have attempted Don's challenges in the hope of coming out victorious but luckily for Don, the record is firmly placed in his hands.
Ken Edwards – 36 Live Cockroaches in 60 Seconds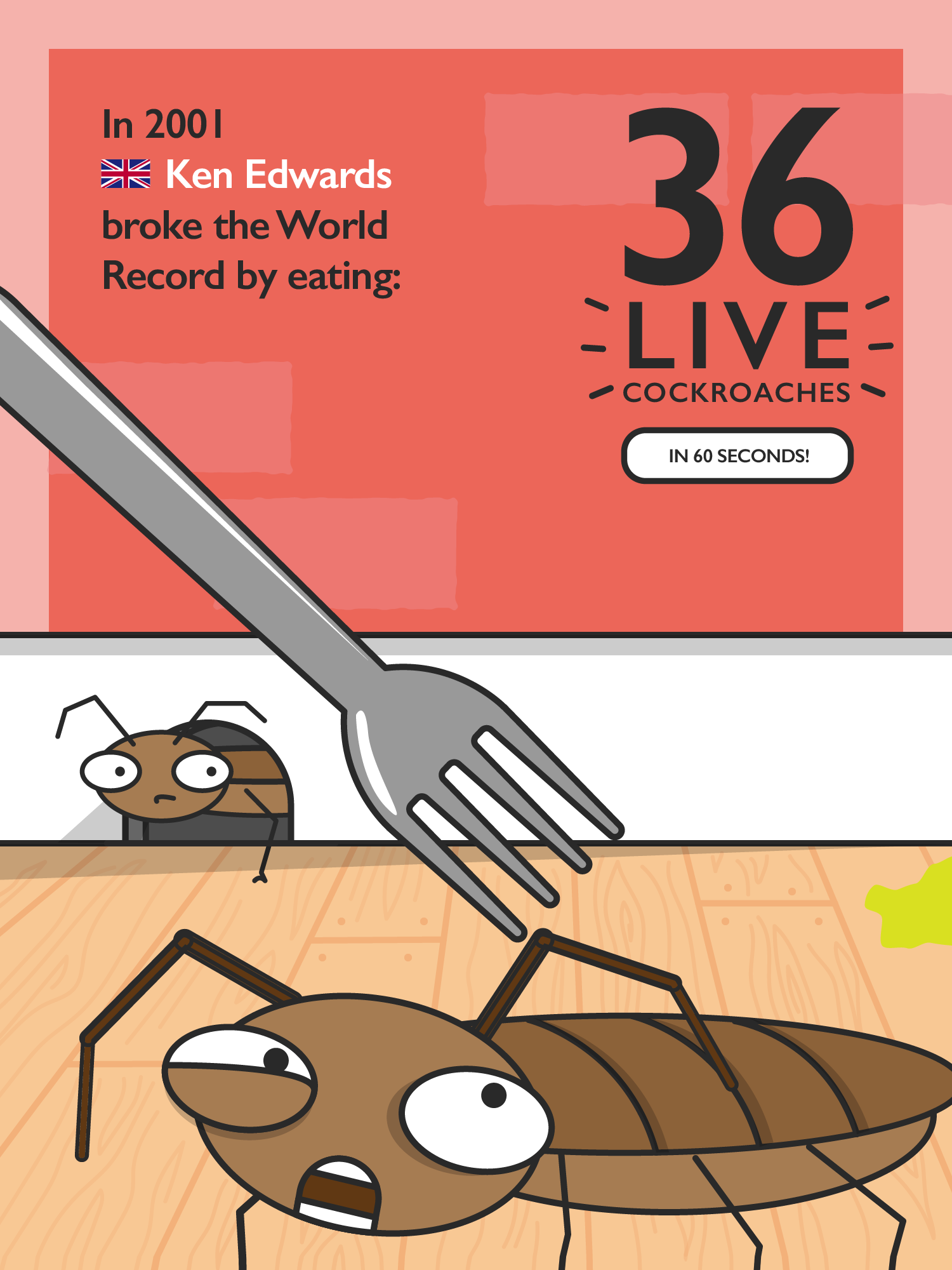 Have you ever wondered what it's like to eat a live cockroach? Perhaps 36 of them? Nope, us neither! But that's exactly what Ken Edwards wondered back in 2001.
Ken Edwards, from Derbyshire in the UK, decided he'd like to take on the challenge of eating 36 Madagascan cockroaches in just 1 minute, and he did just that – there's definitely no room for hesitation in this record-breaking challenge!
Not only can this species of roaches grow up to 3 inches long, but Ken also consumed his platter of crunchy bugs whilst they were still alive. As you can imagine, this didn't go down too well with animal activists, PETA, and in 2006 they chastised Six Flags theme parks for their idea of giving away a free VIP season pass to whoever could beat his record. Much to PETA, and Ken Edward's dismay the challenge still went ahead although all efforts to break this record failed. To this day, Ken still holds the record for eating 36 live cockroaches in 60 seconds.
Takeru Kobayashi – 57 Cow Brains in 15 Minutes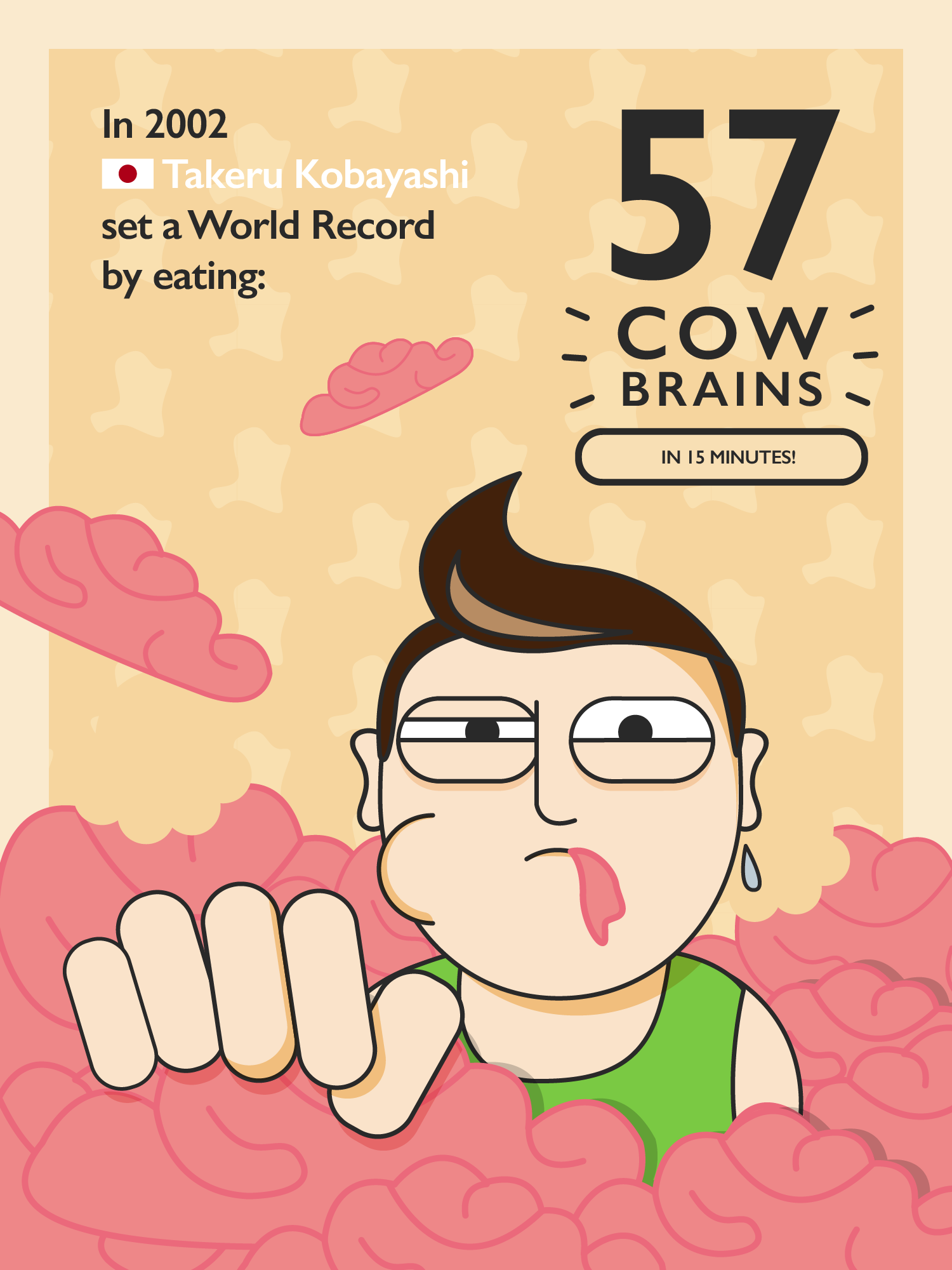 Although we have seen a rise in food challenges over the past couple of years, the early 2000's definitely holds the record for the, shall we say usual, challenges.
2002 saw the record-setting challenge of eating 57 cow brains in 15 minutes by a competitive eater in Japan, Takeru Kobayashi.
Takeru devoured 57 cow brains, with an overall weight of 18lbs, which equates to just over 8kgs! No matter how good the food is for you (cow brains are renowned for being extremely nutritious), the saying "less is more" comes to mind with this challenge, and we definitely think this should have stopped at, well, 0.
Takeru Kobayashi, or the quite apt "The Tsunami" as he's known in the food challenge world, currently holds records for a massive 8 competitive eating challenges internationally. Some of his records include: eating 106 tacos in 10 minutes, and more or less drinking 14 Twinkies in 1 minute, as well as two separate hot dog challenges. It seems Takeru Kobayashi really enjoys his food!
Joey Chestnut – 74 Hotdogs in 10 Minutes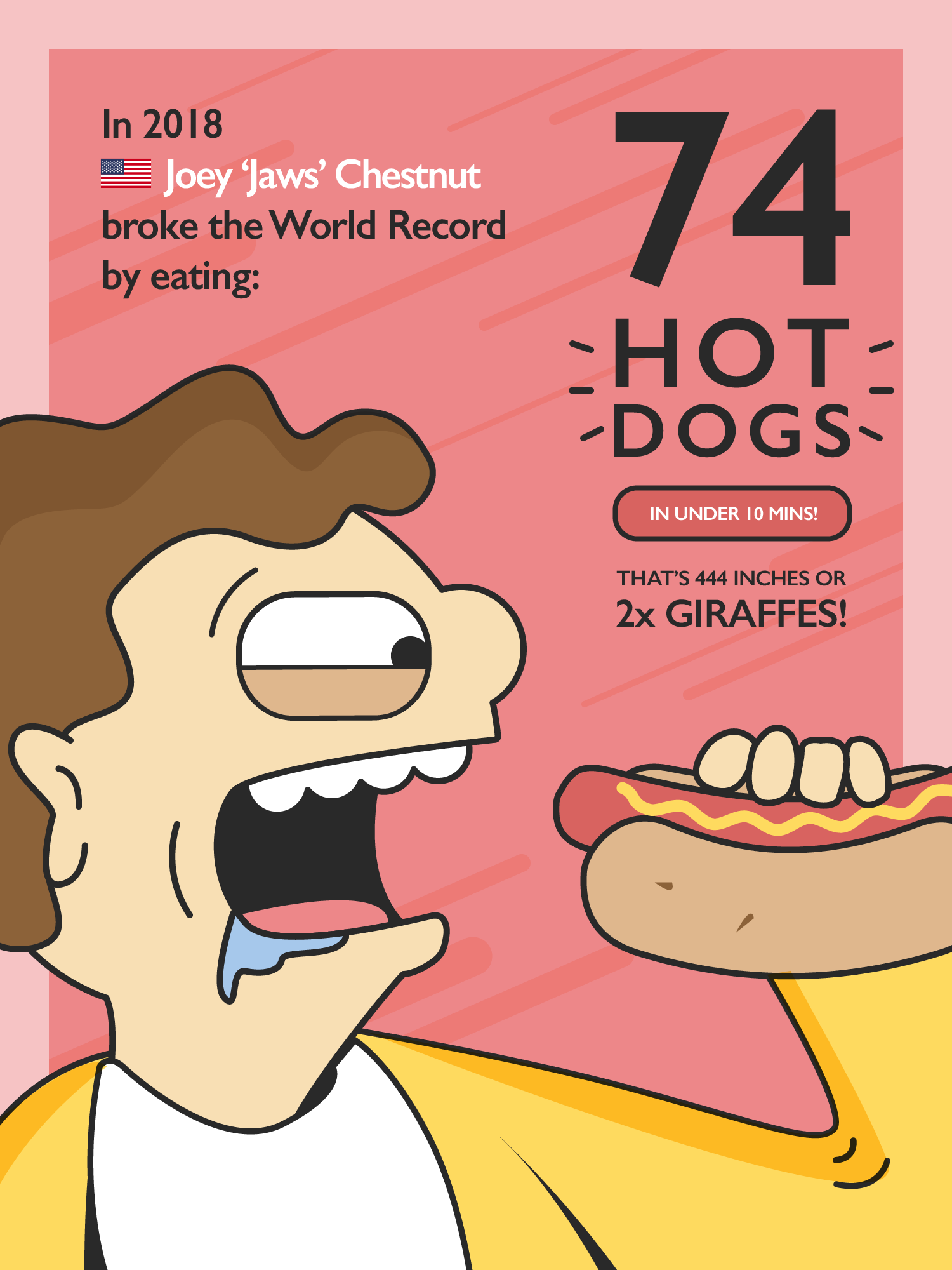 Coney Island in New York has been renowned for its hot dogs for almost a century now and many hot dog-loving eating contestants flock there from all over the world, every year. The most notorious of the hot dog competitions come from the annual Nathan's Hot Dog Eating Contest.
In 2018, Joey Chestnut embarked on the journey to Nathan's in order to not only consume as many hot dogs as he can in 10 minutes, but to break the record from the previous year – which was set by the man himself! In fact, Joey has claimed himself 11 record-breaking hot dog competitions at Nathan's alone.
It comes as no surprise that Joey loves his hot dogs, he was able to devour a whopping 74 hot dog sausages and buns in the alloted 10 minute timeframe – that's 1 full hot dog every 8.1 seconds! But Joey doesn't stop there; he currently holds the records for a number of other large eating contests such as eating 141 boiled eggs in 8 minutes and 4.5lbs of steak, with accompanying sides, in just under 9 minutes. It's safe to say, Joey, you are an absolute beast!
Gideon Oji – 408oz of Kale in 8 Minutes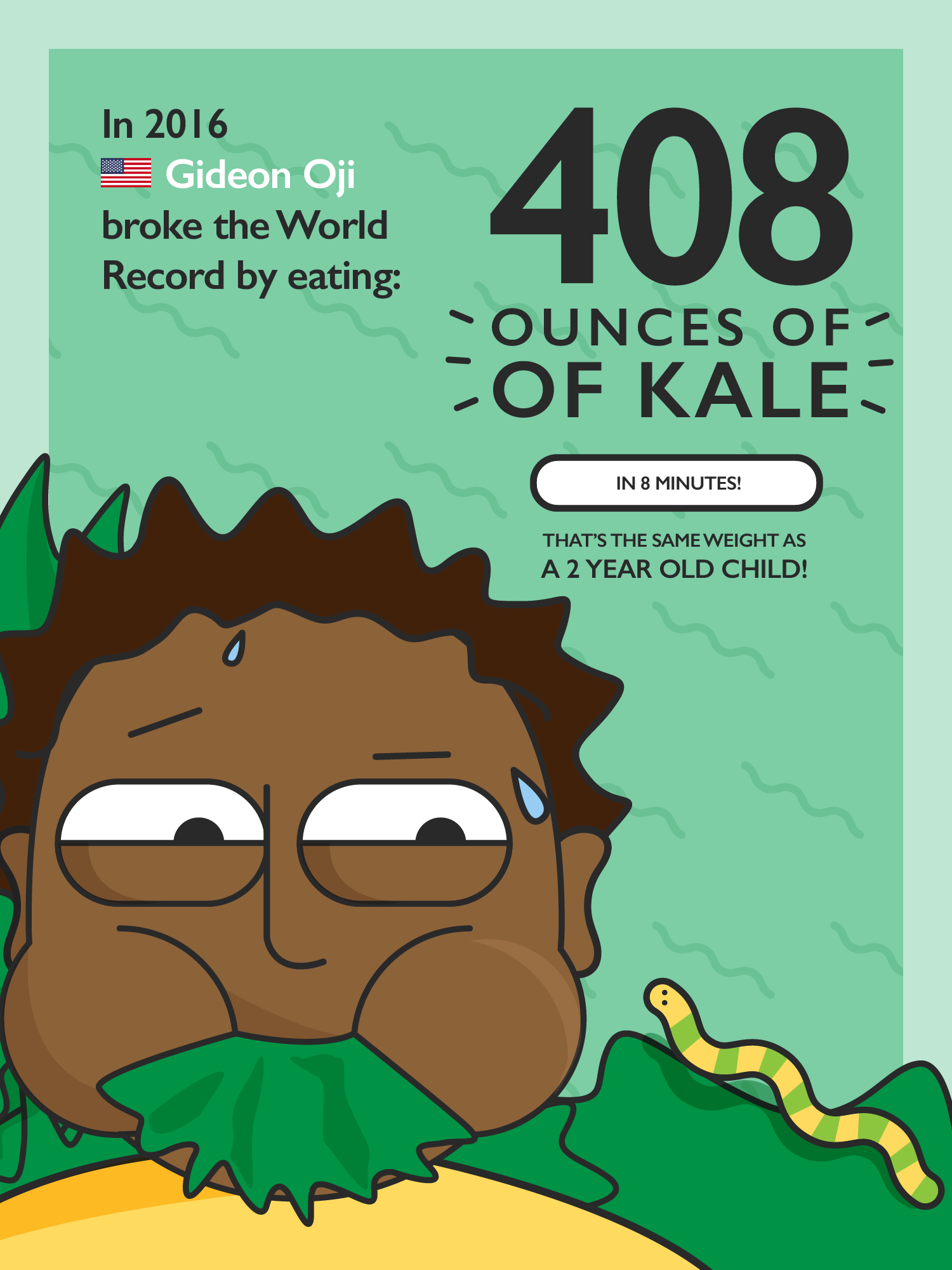 Another more recent victory comes in the form of a kale eating contest which Gideon Oji became the proud winner of back in 2016. The Kale Yeah contest began in 2016 as an event which ran within the World's Healthiest Eating Championship contest – we aren't sure that eating that much kale is classed as healthy, but understandably, it's a lot better than hot dogs, cow brains and cockroaches!
Now, we know what you're thinking; "kale? That's easy!", but have you ever thought about how much kale is actually consumed? 408oz equates to 11.5kgs which is an insane amount of this superfood, especially given how little each individual piece weighs.
The bowls of kale are raw and without dressing so it must be a pretty difficult thing to chew and swallow when you're a few bowls in.
In 2017, Gideon Oji tried to beat his record from the previous year however was unsuccessful this time around. He still holds the record for eating the most kale in 8 minutes though!
Oleg Zhornitskiy – 128 Ounces of Mayonnaise in 8 Minutes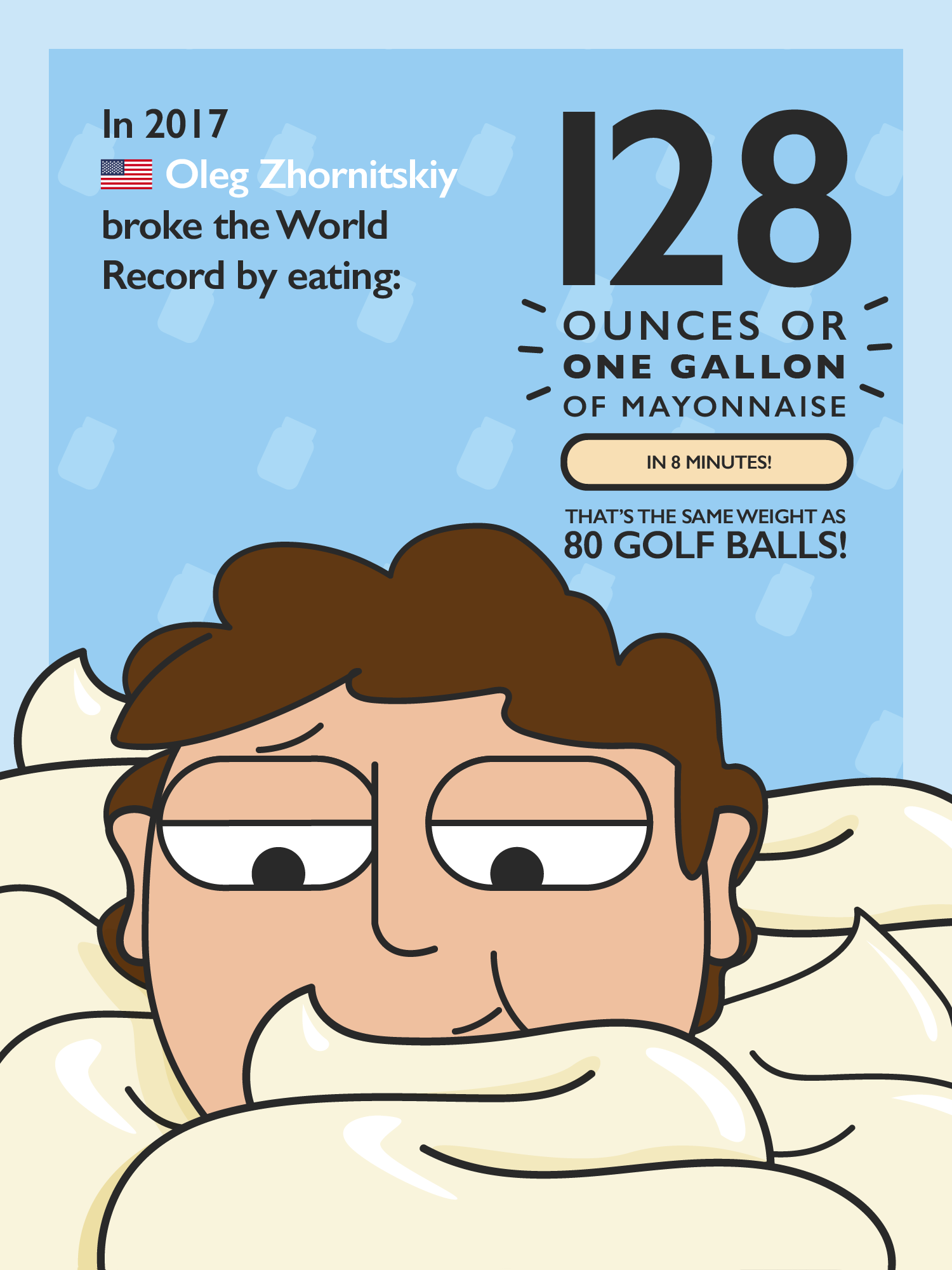 OK, we felt sick before even looking into this contest. Seriously, 128 ounces of mayo?
Apparently this isn't what the Ukrainian born Oleg Zhornitskiy felt when he plowed through 4 massive bowls of the stuff back in 2017. The amount Oleg consumed equates to the weight of 80 golf balls!
As you can probably imagine, this mayonnaise-eating competition has been tried again by many unsuccessful contestant who, luckily, haven't even come close to breaking his record.
Part of us wants this competition to die a very quick death whilst the other really wants to watch him tucking into this amount mayo – is that wrong?
Alex Williams – 5ft of Stinging Nettles in 1 Minute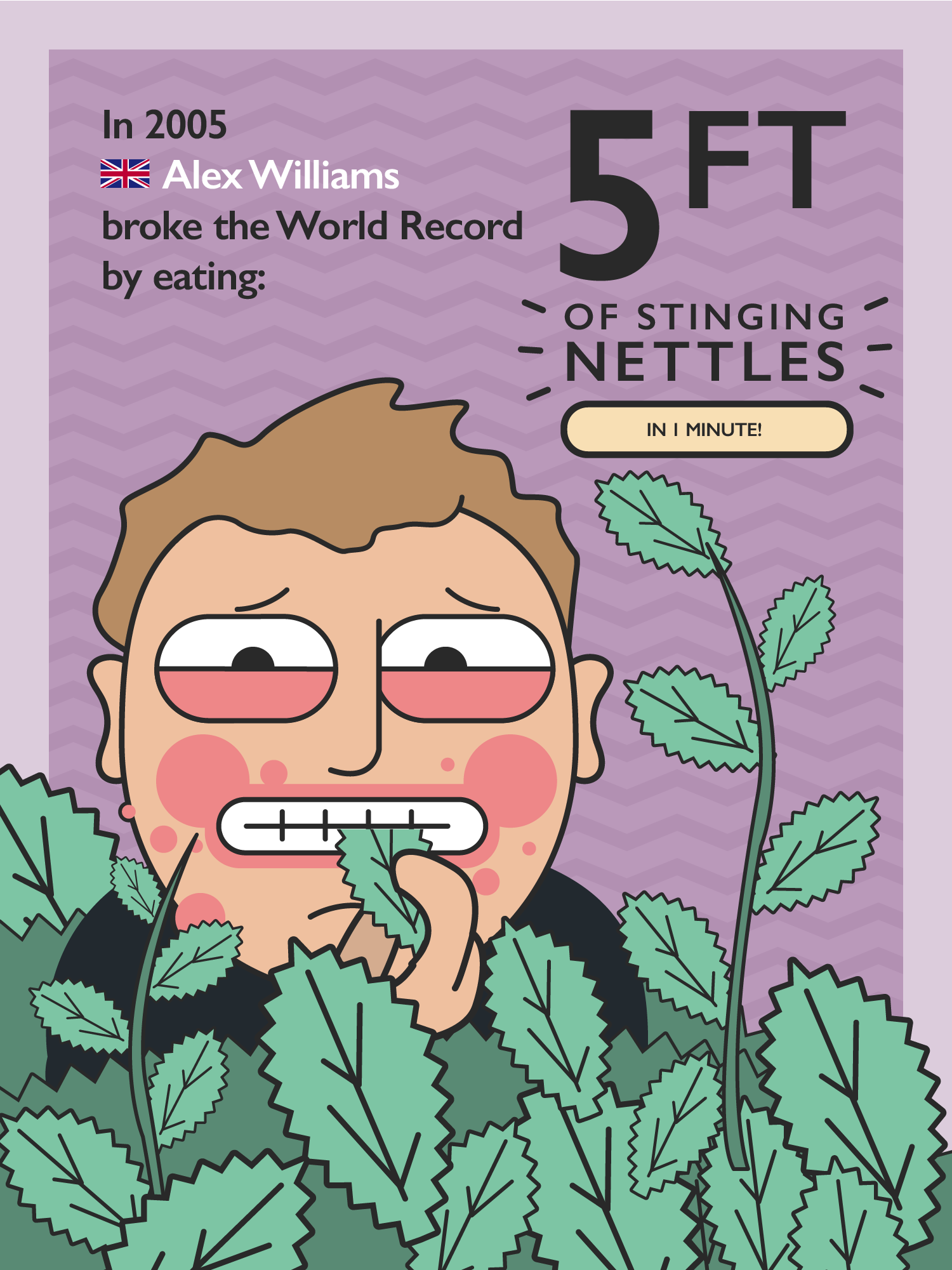 When we mentioned earlier that the Guinness World Records covered everything, we meant everything!
Alex Williams from Dorset in the UK went on TV at the World Nettle Eating Championships and consumed 5ft of nettles in 1 minute. Now, we know what you're thinking, "what in the…?!" but we're afraid this is very true!
Back in 1997, the usual pub banter ensued, Alex challenged other pub-goers that if they found a stinging nettle larger than 15th 6inches (very specific, Alex!), he would consume it. 
Unfortunately for him someone managed to find a nettle that was 16ft long, and true to his word, Alex ate it.
Although it's not the grossest thing to consume, after all nettles have heaps of health benefits, surely his poor mouth took a bit of a beating? Nettle soup anyone?
Matt Stonie – 255 Peeps in 5 Minutes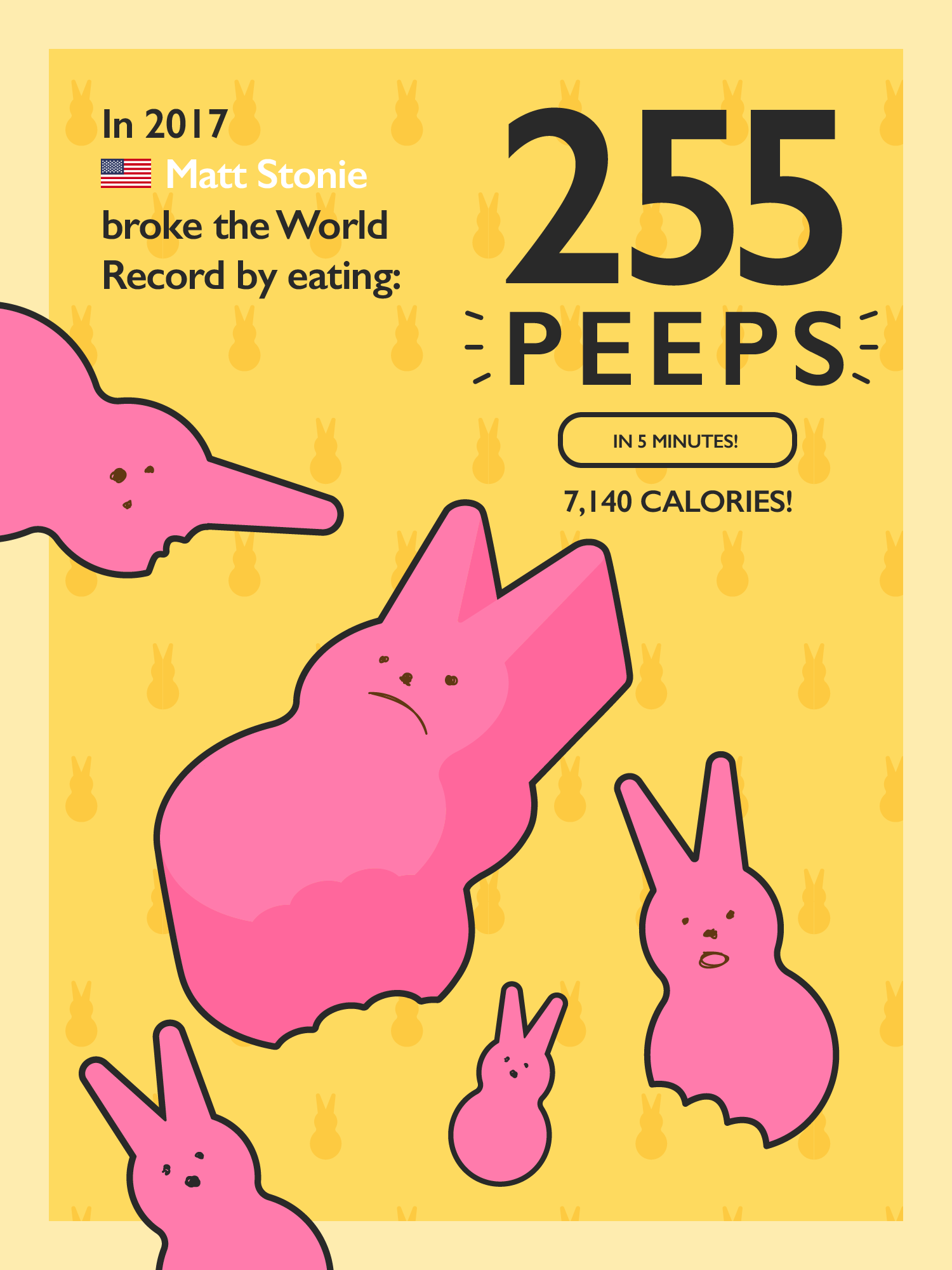 Back in 2017, Matt Stone devoured 255 Peeps in just 5 minutes, and in doing so, he broke his record from 2016 in which he only managed to consume 200 of the little pink rabbits.
If you're unfamiliar with Peeps, these are small and sugary marshmallow treats that are consumed over Easter. They're extremely sweet and are packed with e-numbers, so god only knows how he managed to eat a whopping 255 of them! To put this into perspective, this amount of Peeps results in approximately 7,140 calories of what is effectively pure sugar.
Not only are they going to make you feel extremely sick (we think we'd only be able to consume around 2 or 3 of these before our body temperature rises), but surely he would have been on a massive sugar-high? It's safe to say that these little critters are not for the faint-hearted!
Kelvin Medina – 12 Inch Pizza in 23 Seconds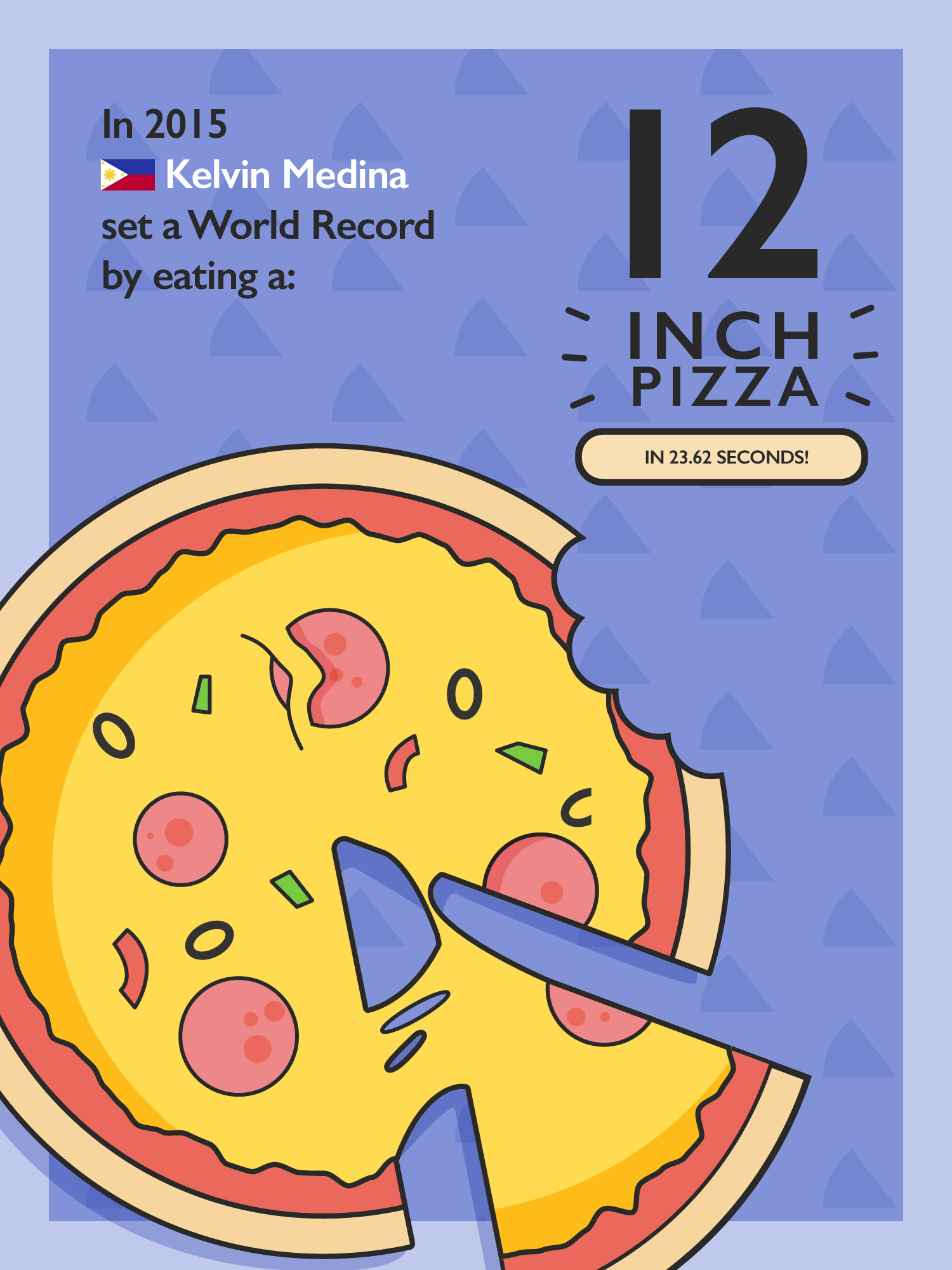 Okay, so firstly, eating a 12 inch pizza isn't
that
hard. Most of us do this at least once a month, but in 23 seconds? You've got to be joking! That's impressive!
In 2015, Kelvin Medina from the Philippines set his sights on breaking the world record for consuming a 12 inch pizza as quickly as he could, and that he did, beating the previous winner by a whopping 15 seconds. Not only did he consume the pizza in a very impressive 23.62 seconds, but he did so using a knife and fork. Yup, you read that correctly, no hands!
It gets better though, this particular eating competition consisted of knock-out rounds in which contestants went against each other to consumed food as quickly as they could until only 2 opponents remained. Although Kelvin came out on top, he only beat his head-to-head opponent by 0.4 seconds. Yes, there's two pizza-eating maniac's running around.
Luckily for Kelvin, his record is still standing…for the minute.
You're more than welcome to use the illustrations for your own content, all we ask is that you credit Amica International as the original source.