Single Ovens
Whatever your preferred cooking style, there's an Amica single oven that will suit you. Our single ovens start with 10 cooking functions and go all the way up to 34 cooking functions so whether you're a no-fuss cook or budding chef, our range caters to your needs. 
Love cooking but hate cleaning the oven? You can explore our range of cutting-edge self-cleaning single ovens with pyrolytic cleaning programmes. Forget about the chore of cleaning and enjoy reliable, maintenance-free cooking every single meal. 
Each
single electric fan oven
in our range offers unbeatable ease of use and their stylish designs add flair to any kitchen.
Single Ovens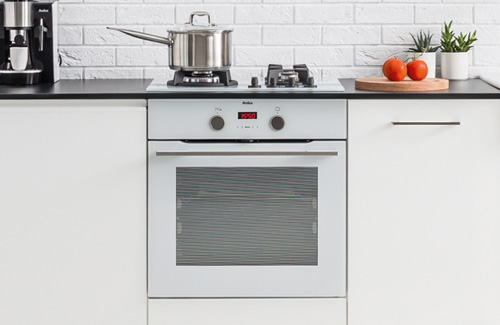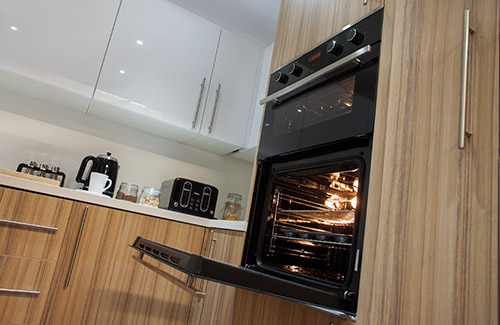 Double Ovens
Find a single oven that just doesn't have quite enough room for your cooking needs? A double oven could be the answer. Whether you're entertaining guests, in charge of preparing the annual Christmas feast or just have a large family, a double oven offers that additional space in the kitchen. 
Worried you don't have enough space? As well as a
built-in double oven
that can be housed in an eye-level unit, we offer a
built-under double-oven
that can be housed under your worktop – working perfectly in tandem with your chosen
built-in hob
when you don't want a
freestanding cooker
. Giving you a variety of options and designs means you can be in full control of how your kitchen looks. 
Our double-ovens offer a variety of additional features so you can choose healthier steam for your meals, touch controls and electric grills. We also make cleaning as simple as possible with easy-clean enamel interiors. 
Whether you're baking the perfect birthday cake, or two, or setting up the delicious festive trimmings, there's something to suit Amica's double oven range.
Double Ovens
---
Our range of single and double ovens offer a number of additional features that make cooking the perfect meal easier than it ever has been before. Our handy features allow you to set an exact temperature, which is perfect for baking, as well as time and heating style choices to produce the best dish every time. 
As well as additional cooking features, we've made it easy to control your cooking with a choice of rotary control knobs or modern touch-screen technology available across the collection. 
Available in contemporary black, bright white and professional-looking stainless steel, we understand what style means. For the final design touch, you can find stylish details like wooden Zen handles and hideaway control knobs to add that extra special feature.
Can I install my own electric oven?
Electrical ovens need to be earthed and all electrical work should be carried out by a suitably qualified and authorised electrician. You can find installation instructions in your Amica user manual for how to properly install your built-in oven.
What are the benefits of a fan assisted oven?
All Amica ovens offer fan assisted cooking. Fan assisted ovens offer a variety of conveniences and benefits when cooking. One of the main benefits of fan-assisted cooking is it produces more even cooking results. A conventional oven surrounds food with hot air and food will often need rotating halfway through, whereas a fan assisted oven circulated the hot air. This circulation ensures all areas of the oven are evenly heated. 
This even cooking also ensures you can cook multiple dishes at the same time, which is perfect for family cooking. In conventional ovens, dishes at the bottom of the oven will cook more slowly whereas a fan oven keeps the temperature even throughout. 
If you're a busy chef, you'll be pleased to know fan assisted ovens also create shorter cooking times. The stable oven temperature and fan efficiency mean food will cook quicker, and often will need to be cooked at a low temperature. Being able to cook your meal faster, at a lower temperature will save you energy making it a more efficient cooking experience.
---
Contact Amica 
Have questions about an Amica oven? Our friendly team is available via phone 9-5 Monday to Friday and 9-1 on Saturdays as well as via our contact form.
Get in touch
with us here.