Integrated Microwaves
Designing your kitchen with a built in microwave is ideal for freeing up worktop space and creating an easy to use and clean-looking cooking station in your kitchen. We offer two options, one that has been created to fit in a wall unit and the other that can be built in seamlessly to your kitchen cabinetry. Either way, both models are finished in a professional and clean stainless steel with simple and functional control panels that allow you speedy control of their specialist programmes, power levels, timers, defrost settings, cooking and grilling functions.
Integrated Microwaves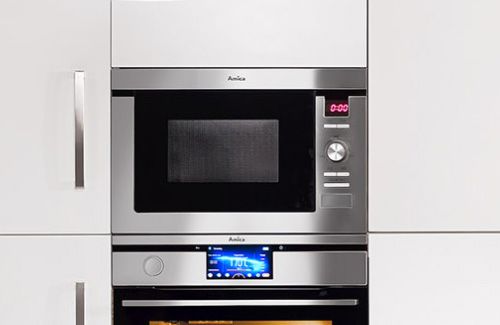 ---
What is a compact appliance?
Compact appliances help you make the most of your space and can take on a variety of roles. So, you may opt for a
built-in microwave with grill
– giving you more cooking options than a standard microwave and reducing the need to buy multiple appliances.
What kitchens are compact appliances used in?
It's a common misconception that compact appliances are simply for smaller kitchens. Really, compact appliances offer you a level of versatility that means you can build your own bespoke kitchen layout, using the space to its fullest potential. Choosing built-in compact appliances gives you the option to install the right appliances for your needs without running out of countertop space.
---
Contact Amica
Do you have questions about our compact appliances? Our friendly team is available via phone 9-5 Monday to Friday and 9-1 on Saturdays, or you can email us via our contact form.
Get in touch!