Chimney Extractors
Chimney extractors remain one of the most popular kitchen extractor fan styles for their stylish looks and consistent efficiency. At Amica, we offer two size options. 60cm chimney hoods for a more compact kitchen and 90cm cooker hoods for larger cookers, or a bold, statement look. 
While chimney extractors are typically seen as a more traditional form of kitchen extractor, you'll find we offer a range of modern designs with cutting-edge additional functionality. As well as offering two size options, we also offer stainless steel chimney hoods for that professional, clean look and black glass extractor fans for a truly contemporary design. 
Many of our extractor fans have three push-button controls so you can control how aggressive your extraction is and lighting for helpful illumination whilst cooking.
Our extractor fans are available with the option to duct or recirculate – making them a truly versatile addition to your kitchen.
Chimney Extractors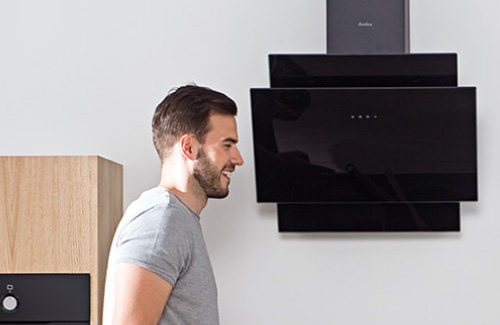 ---
What is a ducted kitchen extractor?
Ducted extractor fans have ducting attached that leads outside of your kitchen, the air is then pushed through the ducting directly outside and isn't filtered in any way. Because they don't need to recycle or filter the air, ducted kitchen extractor fans are more powerful than recirculation extractor fans. This additional power does mean they are louder than recirculation kitchen extractor fans though.
What is a recirculated extractor fan?
Unlike a ducted extractor fan, recirculated extractor fans filter the air before feeding it back into your kitchen. Most recirculation extractor fans will make use of a metal grease filter and a charcoal filter which helps to neutralise kitchen smells. Charcoal filters do need replacing every few months but they are easy to change yourself. 
Rather than directly ventilating the air outside, recirculation foods will extract stream, grease and cooking odours from the kitchen and push them through first the grease filter and then the charcoal filter. The air is then recycled back into your kitchen. Because they need to recycle the air, they are slightly less effective than ducted kitchen extractors but they are more versatile in where they can be fitted. 
Where can I install a chimney extractor fan?
Chimney extractor fans need to be placed against a wall so they're only suitable for cookers that are fitted against a wall. You won't be able to use a chimney extractor fan for an island hob as they'd be too far apart to efficiently extract steam and grease.  
How do I clean my extractor fan?
It's important to keep your extractor fan clean so that it can continue to work efficiently. You can find information in your user manual on the best way to clean your particular model.
Not sure where your user manual is? If you visit your Amica models product page you can find a downloadable User Manual PDF under the downloads tab.
Keeping your extractor fan clean is relatively simple, with soapy water and a bit of elbow grease you can keep it sparkling clean. The only part of your extractor fan that you can't clean is charcoal filters which will need to be replaced. 
---
Contact Amica 
Have a question about kitchen extractor fans? Then we're here to help. We're available via phone 9-5 Monday to Friday and 9-1 on Saturdays as well as via our contact form.
Get in touch with us here.