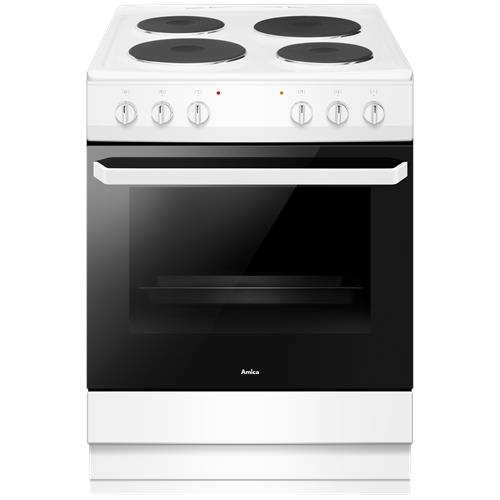 ---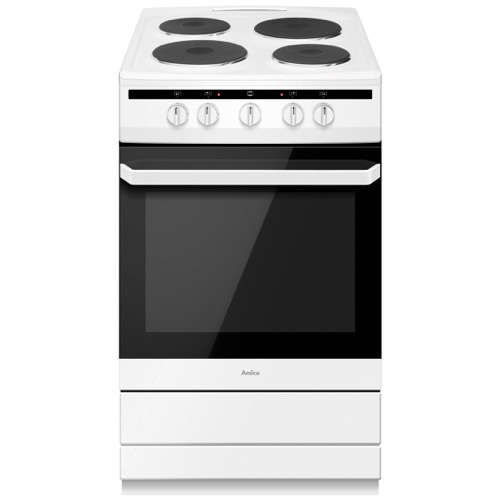 ---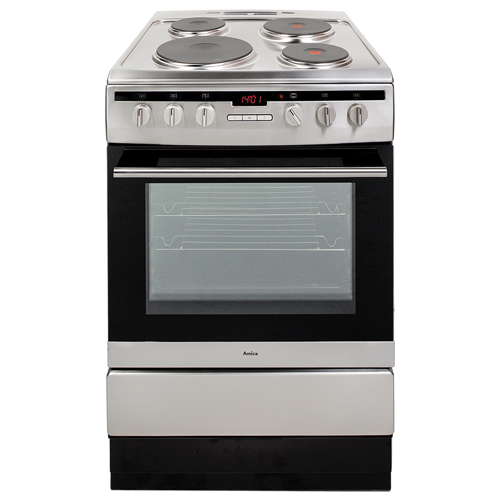 608EE2TAXX 60cm freestanding electric cooker
The 608EE2TAXX is a 60cm freestanding electric cooker with electric plate hob in white. The cooker has 8 functions including a light function and a booster function for rapid preheat. The hob also has 7 power levels along with a temperature limiter and residual heat indicators which informs that the hob is still hot to touch. The hob also has a button control electronic programmer with LED display.
READ MORE...
---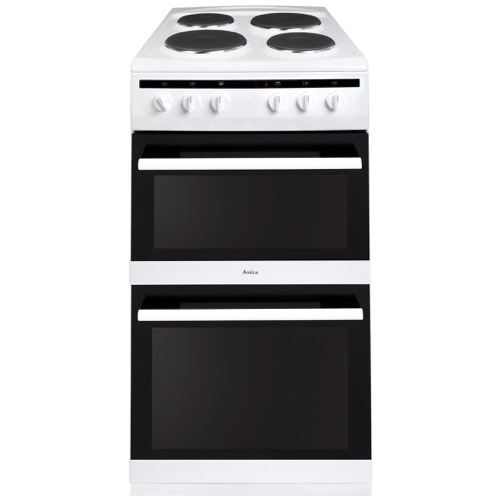 ---
How do electric cookers work?
As the name suggests, electric cookers use electricity as their power source when cooking dishes in the oven cavity and cooking food on the hob. There are different types of electric hob but the most traditional model of the electric hob will have four raised hob plates. 
These heating elements on an electric hob are heated through an electrical current which then directly heats any pots or pans placed on the hob. Our electrical hobs have at least six power levels each to handle everything from gentling simmering a sauce to boiling potatoes. Electric hobs are incredibly easy to use and favoured for their low-maintenance approach when cooking. 
Electric ovens remain one of the most popular choices because of their ease of use and energy efficiency. Electrical ovens have two heating elements, one at the top of the oven and one at the bottom. This is heated by an electrical current which then heats the oven cavity for simple cooking. Most ovens will disguise the bottom element to make it easier for cleaning, while the top element is often used for grilling and browning food. 
Many of our models, like the
608EE2TAXX
have additional heating features like the booster function to speed up preheating times, perfect for when you're hosting or in a rush.  
Why choose an electric cooker?
Electric ovens tend to offer a more even oven temperature than other oven types. This even temperature allows for more consistent heat distribution throughout the oven cavity. Whilst cooking, this consistent heat distribution allows for a more even cooking experience. This is especially useful when cooking large meals as it won't matter where in the oven cavity you place your baking dish. Bakers also tend to prefer an electric oven, as a consistent temperature throughout the cooking process is essential for evenly raising bread and cakes. 
You'll also find electric ovens can save time in the kitchen, they tend to be quicker to preheat than other fuel sources. This means you can start cooking sooner and their even temperature can lead to quicker cooking times. Electric ovens also have the best grilling capabilities, which is perfect for toasting bread or browning a lasagne for a crisp finish.
Electric hobs are popular because of their ease of use and accessibility. All of Amica's electric cookers have six power levels which can be easily turned on by just turning the front knobs. Because they don't require a gas supply, they can be used in any kitchen with electricity.  
If it's time to upgrade your oven but you need to be conscious of your budget, electric ovens tend to have a cheaper upfront cost. With our energy-efficient models, you'll also find they don't break the bank in energy bills.
How do you clean an electric cooker?
Another benefit of electric cookers is, they're very easy to clean. The solid plate hobs are slightly raised from the hob, so they can easily be targeted for spot cleaning. Because of their clean lines, there is not much space for grime to become trapped in an electric hob which can really cut down on cleaning time. This is in contrast to gas hobs which require burners and pan supports to be removed for proper cleaning and have many nooks and crannies. 
At Amica, we've added lots of extra features to make your electric cooker as simple to clean as possible. Our
508EE1W
model has a removable indoor to make glass cleaning easier. When cleaning your electric cooker, you don't need any special equipment or cleaning supplies. You can use a sponge or clean cloth and hot, soapy water to keep your cooker sparkling clean. 
Try to wipe your oven a quick wipe down after cooking and give it a complete clean once a month. This stops grease and dirt from building up on your hob and in your oven cavities, so cleaning will be easier in the long run. It will also help keep your food tasting its best as grease build-up can actually affect the taste of your food!
Can you just plug an electric cooker in?
While electric ovens don't need to be connected to a gas supply, your electric cooker will still require a lot of power so you can't just plug it in. Electric cookers need to use a lot of energy so not every plug socket is suitable. We recommend your appliance is installed by a competent electrician, specifically a qualified electrician who is a member of the N.C.E.I.C who will comply with I.E.E and local regulations. 
When choosing where to have your cooker installed, there are a few considerations to make. We don't recommend that your cooker shares a circuit with any other major kitchen appliances, such as a
dishwasher
or
washing machine
. This is because they could trip the power if they are running at the same time. 
---
Contact Amica
Have a question about Amica's electric cooker range? If so, you can
get in touch
with our friendly team who'll be happy to help.