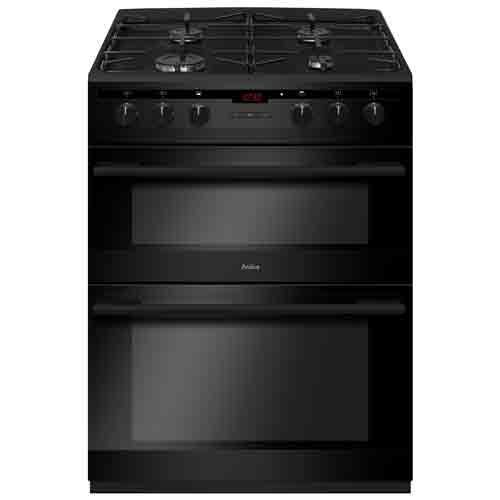 AFD6450BL 60cm freestanding electric double oven with gas hob
The AFD6450BL is a 60cm freestanding cooker with an electric double oven and 4 burner gas hob, all finished in a stylish black. The hob has enamel pan supports, automatic ignition and a flame failure safety device along with an LPG conversion kit. The oven has a digital programmer with a red LED display controlled by push buttons, chromed rack sides with integrated anti-tilt shelves, double glazed doors with removable inner door glass and easy clean enamel interior along with catalytic liners as standard in both cavities to help aid the cleaning process.
READ MORE...
---
How do dual fuel cookers work?
Dual fuel cookers use one fuel supply for your hob and another fuel supply for your oven. This allows you to get the full advantages of both fuel types, without any of the downsides. At Amica, we offer an electrical oven with a gas hob – which remains the most popular dual fuel cooker option. 
What are the advantages of a dual fuel cooker?
The main advantage of a dual fuel cooker is that you can enjoy the best of each fuel type, without the compromise. While an electrical oven is incredibly efficient, electrical hobs can take much longer to heat than a gas hob. Electrical hobs also aren't able to offer the same precise temperature control as a gas hob. Gas hobs can quickly change temperature, heat incredibly quickly and add some old-school charm to any kitchen.
Gas ovens, however, take longer to heat the entire oven cavity than an electrical oven would. It's also much less common to find a fan-assisted gas oven so they don't tend to cook food as evenly as a fan-assisted electric oven is able to. We also find that electrical ovens do a better job of grilling food than gas so if you want to brown a dish, or even toast some bread, electrical ovens have the advantage. 
How do you clean a dual fuel cooker?
We've made it as easy as possible to keep your dual fuel cooker sparkling clean. Our enamel pan supports can be simply lifted off the hob to be cleaned, and because they're enamel, they can be popped in the dishwasher with your plates and don't require any scrubbing on your part! If you don't have a dishwasher, you can easily clean them in the sink with hot water and a sponge, or soft cloth. You can use a wet sponge to wipe over the top of the hob. Buff it out afterwards with a dry tea towel or cloth for a brilliant finish. 
The electric ovens in our dual fuel cooker are fitted with catalytic liners, to make the cleaning process very simple. A catalytic liner is treated with special materials that make it very efficient at absorbing grease. The liners will actually help break down food so that when your oven is hot, the particles will burn away. You'll find that this really cuts down on how often you need to give your oven a full clean. When you do, our ovens are also fitted with easy-clean enamel to make it a quick job with minimal scrubbing. 
To ensure the glass in your oven is as easy to clean as possible, our inner door glass is removable. It can be quickly removed to be cleaned with the appropriate glass cleaner. This is far more comfortable than crouching down with a cleaning cloth and white vinegar spray, trying to polish your oven doors! Once cleaned, they can easily be refitted and you're ready to cook.
Do I need a professional to fit my dual fuel cooker?
To install the gas supply to your dual fuel cooker, you will require an appropriately authorised fitter. Before hiring a fitter, ensure they are a Gas Safe Registered Engineer. You should retain a paper copy of your user manual, or share our online
manual PDF
, to ensure they have all the information they need to safely install your new appliance. 
It's essential that you get in a professional to connect your gas supply. There are many risks to an incorrectly installed gas hob. This can range from accidentally damaging your cooker to creating a gas leak. A Gas Safe Registered Engineer will ensure your appliance is properly fitted and can be safely used.
---
Contact Amica
Have a question about Amica's dual fuel cooker? If so, you can get in touch with our friendly team who'll be happy to help.