Freestanding Freezers
We have a range of fridge freezer sizes, from compact models that can fit on your countertop, to large freestanding upright freezer models. Our freestanding freezer models fit seamlessly in you kitchen or utility room
Our range of freestanding undercounter freezers include spacious storage drawers that are easy to slide out as well as compact freezer can be placed on worktops – perfect for smaller homes, as well as families who want to keep certain food on hand ready to cook.
Freestanding Freezers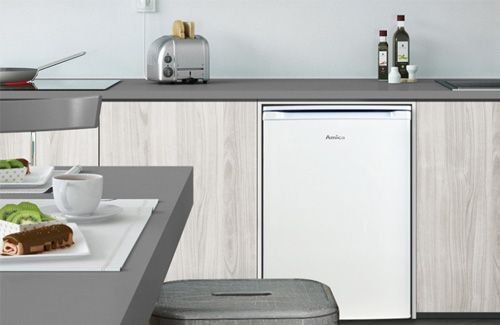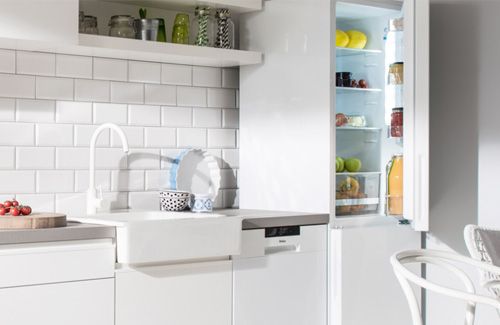 Freestanding Fridge Freezers
Freestanding fridge-freezers offer the best of both worlds with the ability to chill fresh food as well as freeze food for more long-term storage in a single appliance. A combination fridge-freezer is designed to cater for your entire family's food storage requirements in a single space. 
Just because these models combine a fridge and a freezer, doesn't mean you need to use exactly the same space for each type of food storage. We know that everyone will have different requirements when it comes to how much storage space is given to the fridge and how much is given to the freezer, this is why the Amica freestanding fridge freezer range offers a number of size combinations to perfectly suit your storage needs.
Retro fridge freezers have become an especially popular choice over the last few years. We have a range available in fun colours, like our FDR2213 freestanding retro fridge freezer
in duck egg blue and the FKR29653C 60/40 retro fridge freezer in cream
. A retro fridge freezer allows you to make a real statement in your kitchen and might just become the most stylish part of your home!
Freestanding Fridge Freezers
Freestanding Fridges
Freestanding fridges offer the ultimate plug-in and go convenience when it comes to fresh food storage. Unlike integrated fridges, you don't need to adjust your kitchen cabinetry, although our undercounter freestanding fridge options can neatly sit underneath your work surface to save space.
Our freestanding fridges are perfect for busy families or keen chefs who like to have a lot of perishable ingredients on hand like fruit and vegetables. If you're looking for a more compact model, we also offer a
tabletop fridge
that's perfect for smaller kitchen spaces. 
Whether you need to feed a football team or just yourself, we have a freestanding fridge that will work in your kitchen.
Freestanding Fridges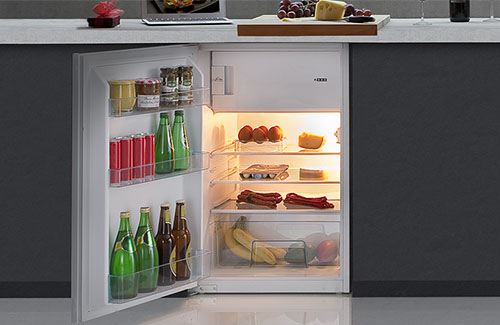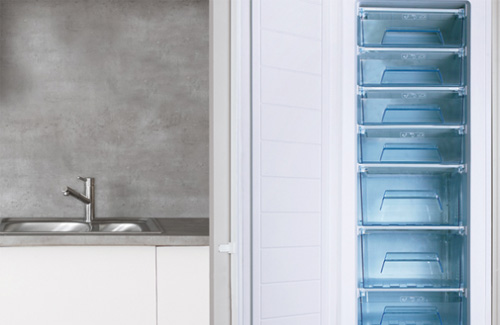 Integrated Freezers
Integrated freezers are perfect for those who want a long-term food storage option in their kitchen without an appliance that's constantly on show. Integrated freezers can be built into existing cabinetry so when they're not in use, they won't be visible. This is perfect to maintain your kitchen's clean lines. 
Our integrated freezer range is available as under-counter freezers or full-height freezers. Under-counter freezers are perfect for smaller kitchens or homes that don't use the freezer as frequently so don't require as much storage space. Our under counter freezer features three storage compartments and an ice cube tray. 
A tall integrated freezer will give you as much freezer space as you need so are perfect for those that like to batch cook, busy families and those who just like to stock up. Our full-height freezer has frost-free functionality as well as nine storage compartments and a temperature warning light.
Integrated Freezers
Integrated Fridge Freezers
Integrated fridge-freezers give you the best of both worlds. With the chilled storage of a fridge and the long-term storage of a freezer that you can keep discreetly tucked away behind your kitchen cabinet doors. This is the perfect appliance choice if you want to keep an incredibly streamlined look to your kitchen and don't want your appliances drawing attention from the overall design.
With a range of storage options available, whether you want a 50/50 built-in fridge freezer or 70/30 integrated fridge freezer as you prefer fresh over frozen food, there's an integrated fridge freezer for you.
Either way, once the kitchen cabinet door is fitted to the outside of the appliance, you will never even notice this practical addition in your kitchen until it's time to start cooking.
Integrated Fridge Freezers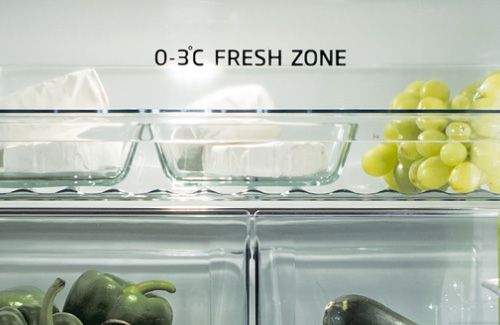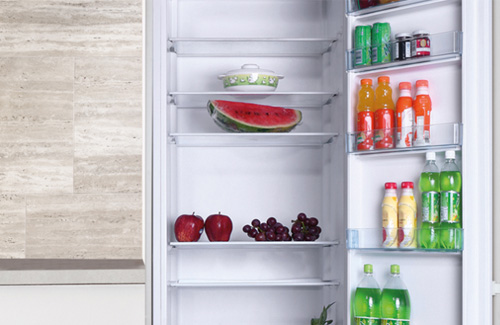 Integrated Fridges
Integrated fridges mean all your fresh food is on hand when you need it, but neatly hidden away behind your kitchen cabinets when you don't.
Whether you want an under-counter fridge for more compact fresh food storage or a full-height larder fridge so you can store all the fresh, crisp fruit, salad and cold drinks you want, our different size options mean there's an integrated fridge size for every kitchen. 
When you are getting ready to cook, you need everything on hand and so, with an integrated fridge, you can store everything in the heart of the action and right where you need it.
Integrated Fridges
---
Contact Amica 
Have a question about an Amica fridge, freezer or combination fridge freezer? Our customer service team is available via phone 9-5 Monday to Friday and 9-1 on Saturdays as well as via our contact form.
Get in touch
!