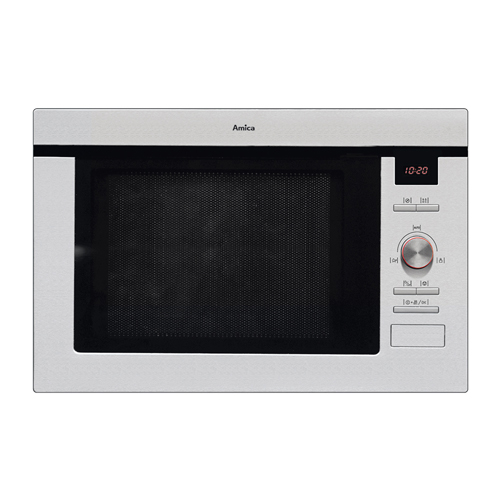 AMM25BI Built-in microwave oven and grill
The AMM25BI is a built-in microwave oven and grill with features that include: auto/manual defrost, an LED timer, quick start, 5 power levels, acoustic end signal, safety key lock and a stainless steel interior. The AMM25BI also has 8 auto cook programmes available.
READ MORE...
---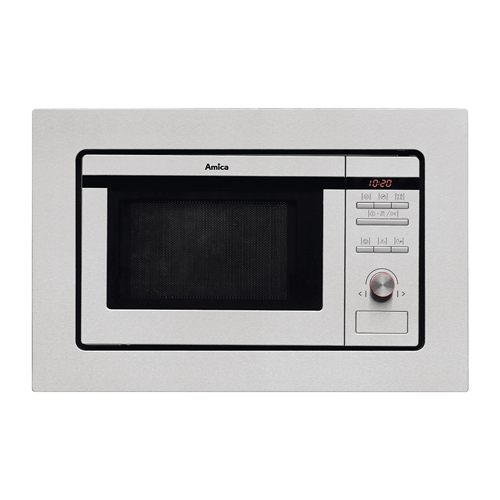 AMM20G1BI Wall unit microwave oven and grill
The AMM20G1BI is a wall mounted microwave in stainless steel. This model has lots of great features including 8 auto-cook programmes, auto and manual defrost along with an LED timer and clock. The microwave also can be used as a grill to meet more of your cooking needs.
READ MORE...
---
How do I clean an integrated microwave?
Our microwaves are made of stainless steel so it's easy to clean food splatters or any spilt liquid with a damp cloth. You can use mild detergents if the microwave oven gets very dirty but try to avoid harsh cleaners as they can dull the surface.
We also offer a full cleaning guide in your user manual. If you can't find your user manual, you can find a
PDF copy
of your guide here.
How are integrated microwaves fitted?
Integrated, or built-in microwaves, are fitted within a carcass of a kitchen cabinet so they sit flush with the rest of your cupboard doors and appliances. The microwave will sit within a hidden frame or on a shelf, ensuring it's secured in place. Each standard built-in microwave and wall-mounted microwave from Amica is fitted with a plug and can only be connected to a properly installed, earthed socket. If you do not have a pre-existing plug socket, it needs to be installed by a qualified electrification. 
You can find more fitting information in your microwaves installation and user guide, or contact a member of our customer care team who will be happy to assist you.
Are compact microwaves appliances full-sized?
One concern with compact appliances is that they won't be large enough to deal with all of your cooking needs. At Amica, just because our appliances are compact doesn't mean they aren't big enough to get the job done. Our integrated microwaves are compact because they're multifunctional and can be built into existing cabinetry, saving you space – not because you need to compromise appliance size. 
Are integrated microwaves as good as freestanding microwaves?
The main difference between a built-in appliance and its freestanding counterpart is aesthetic. An integrated compact appliance will neatly fit behind your cabinets to maintain clean lines throughout your kitchen. You won't notice a difference in their performance, especially with all of Amica's handy additional features that allow you to grill, defrost and even cook pizza all in one handy appliance. 
---
Contact Amica
Do you have questions about our compact appliances? Our friendly team is available via phone 9-5 Monday to Friday and 9-1 on Saturdays as well as via the email form on our contact page.