Amica Home and Kitchen Appliances
Taking care of the laundry
When you've got a stack of laundry to do you need a washing machine that can take care of all your whites, colours, school uniforms or sports kit in one go. We've created a range of freestanding washing machines that will do just that. With extra-large drums that can hold the equivalent of 5 towels, 10 shirts, 4 pairs of trousers, 20 pairs of socks plus 2 bed sheets and 2 pillowcases you will breeze through laundry day in no time. Not only do they wash brilliantly, with a full range of easy to use programmes that tailor the technology to your needs, they also use as little water and electricity as possible to get the job done.
The AW1814D is an A++ energy efficiency rated washing machine that is kind to your pocket and to the environment by being as economical as possible with water and energy. It is freestanding so that it can be installed and moved to suit your kitchen or utility layout. It also comes a with huge range of extra features to help out whoever is on laundry duty as well as taking care of your family's clothes at the same time. As well as 15 wash programmes that can be selected to precisely adjust the settings of the appliance to suit your wash load, we've developed some extra features that work to look after your garments, your washing machine and your family's health.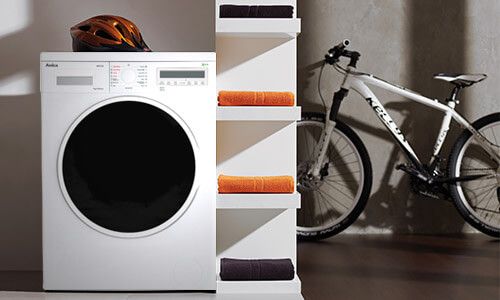 We understand that every family is different, so if you are a sporty household we have created the Sport Programme to hygienically clean gym kits in just 40 minutes. For family members with sensitive skin, the anti-allergy feature ensures that irritants are removed from clothes and bedding each time you wash and for the tiniest members of the family we have included a handy child lock to prevent the washing machine being switched on, off or anything in between.
No-frost, no fuss
Fresh, safe, handy and reliable food storage is definitely at the top of most people's 'fridge shopping list'. Choosing an appliance that can take good care of your weekly shop time after time, without fuss is probably one of the most important aspects of your kitchen. Forget spending time defrosting an Arctic wilderness in the freezer and discovering ice lollies and sausages from the first ice age, with No-Frost technology you can keep stocking up your freezer when the supermarket prices are low to make sure your family always has something tasty to reach for.
Our freestanding combination fridge freezers are easy to install as they can be plugged in anywhere with a socket, without the need to be built in to your kitchen housing. The FK3216GBDF looks great with its stylish black exterior and combines a huge fridge storage space with 3 pull out freezer drawers, whilst only being 60cm wide. This layout makes it perfect for storing plenty of milk, yoghurts, cheeses and spreads as well as all your fresh salads and vegetables. It features adjustable shelving to separate your cooked meats from raw and also has a cheeky bottle rack for your Friday night Pinot or Prosecco! All that and you still have plenty of room in the freezer for meats, fish fingers, ice cream, frozen veg, pizzas and ice cubes.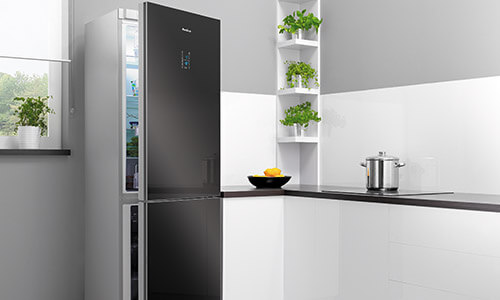 To make life easier there is a Super Freeze Function that quickly brings fresh food down to a safe storage temperature when you are unpacking the shopping as well as transparent freezer drawer fronts so that you can see what is inside. When you go away the Holiday Function will keep your frozen food safely stored while switching off the fridge to save energy until you get back. All this can be controlled through the electronic display that is easy to use, and the door alarm will even let you know if you don't shut it properly. Clean, efficient food storage that is a pleasure to use.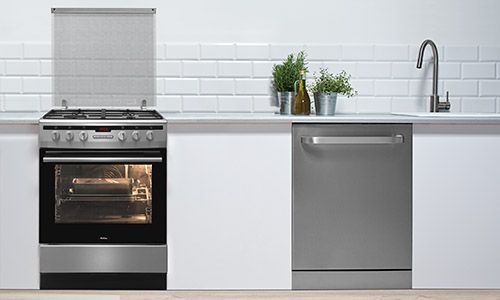 The 608DCE2TAXX is a great example of why we love freestanding cookers so much. We've combined an easy to clean and control, ceramic 4 zone hob with 2 spacious ovens to cook in below. The design has crisp lines with its steel and glass finish which makes it easy to keep clean and the whole package is just 60cm wide.
Cook quickly, clean easily and get creative
Build your kitchen exactly how you want to with a freestanding cooker. Our range of freestanding cookers come in every combination imaginable, from gas to ceramic or solid plate electric hobs to single or twin cavity oven cooking, we have thought of everything. Every cooker in our range is easy to use, tested to be perfectly reliable and comes in stainless steel or white to suit your kitchen design. We have options in 50cm wide or 60cm wide so you can be sure to find something to suit your space perfectly.
There are plenty of features and functions to get excited about too. The 608DCE2TAXX comes with catalytic liners which are simply oven liners that fix onto the internal walls of the cooking cavity. They then absorb grease, cooking spatters and spills every time you cook, preventing your oven from getting dirty. When they are fully saturated you can simply change them for a new set instead of scrubbing your oven with harsh chemicals. There is also a telescopic shelf included with this model that slides in and out to allow you to easily put in and take out heavy dishes safely.  Have you also seen the Procook non-stick tray? We've thrown this in for good measure too and we're sure that you will love the fat-free, non-stick cooking capabilities it brings.