When choosing a freestanding gas cooker or electric cooker for your kitchen, it is important to understand what options are available. Knowing what will suit your kitchen's style and size is as imperative as identifying how you intend to use them. With most cookers ranging from 50cm to 60cm in width, you should be conscious of the usable space you have between your counters and units, too. 
A freestanding cooker differs majorly from a regular built in oven. As opposed to having a separately installed hob, a cooker includes both a hob and oven compartment. A freestanding cooker is designed to simply fit between your counters – removing the need for fitting within a kitchen cabinet and making the installation process easier.
Most importantly, you should know what type of fuel your current cooker requires. If you only have an electric fitting for your current cooker, then investing in a gas cooker may turn into an unnecessary expense. Hiring somebody to install and connect a gas fitting to fuel your gas cooker can become costly very quickly. Make sure you are aware of your current fitting and fuel supply and prepare for additional costs if you intend to change. 
Different styles of cooking can be better suited to a particular cooker. Exploring the differences of a gas vs electric cooker for baking will be an ideal place for avid bakers to start investigating. Being aware of what you use your current cooker for (or plan to use your new one for) is the first step you should take before investing. Gas cookers and electric cookers boast different qualities that complement different styles of cooking.
Amica manufactures a variety of freestanding cookers in a range of styles and sizes. With 50cm gas cookers and 60cm gas cookers on hand, finding the right size for your kitchen will be a breeze. The same applies for both 50cm electric cookers and 60cm electric cookers.
Is it better to cook with gas or electric? Does it take longer to cook in a gas oven? 
Cooking with gas vs electric also poses many differences to the average kitchen user. Gas is naturally a very efficient fuel. In terms of a gas cooker, this means that the oven compartment will be very quick to heat. 
If you have ever used an oven before, you will know the importance of preheating before cooking. However, gas cookers are more prone to temperature fluctuations, and some ovens are known to have particular hotspots. Due to the combustion of the gas, moisture is also released into the cavity of the oven. This can cause issues with browning and crisping when it comes to baking. 
An electric cooker with a fan oven is designed to provide a more even and thorough cook, and when both reach the same temperature, cooking time should be the same. The biggest difference between the two is the time it takes for each to heat up. Whilst a gas cooker will generally take 10 – 15 minutes to heat up completely, an electric cooker can take up to 10 minutes longer. This is because a gas cooker will heat up the oven compartment from all sides with instant heat, whereas an electric cooker heats the compartment from a single plate or element and the warm air it creates is then pushed around. 
For the common baker, it is important to know the differences of a gas vs electric oven for baking. The humidity differences between the two ovens can provide different results when it comes to baking, and having a preference can help. As gas ovens tend to be slightly more humid they can be more beneficial for baking bread or pies, as the crusts are less likely to dry out. Electric fan ovens can provide greater air flow and so are often preferred for baking cakes, as the moisture content is maintained.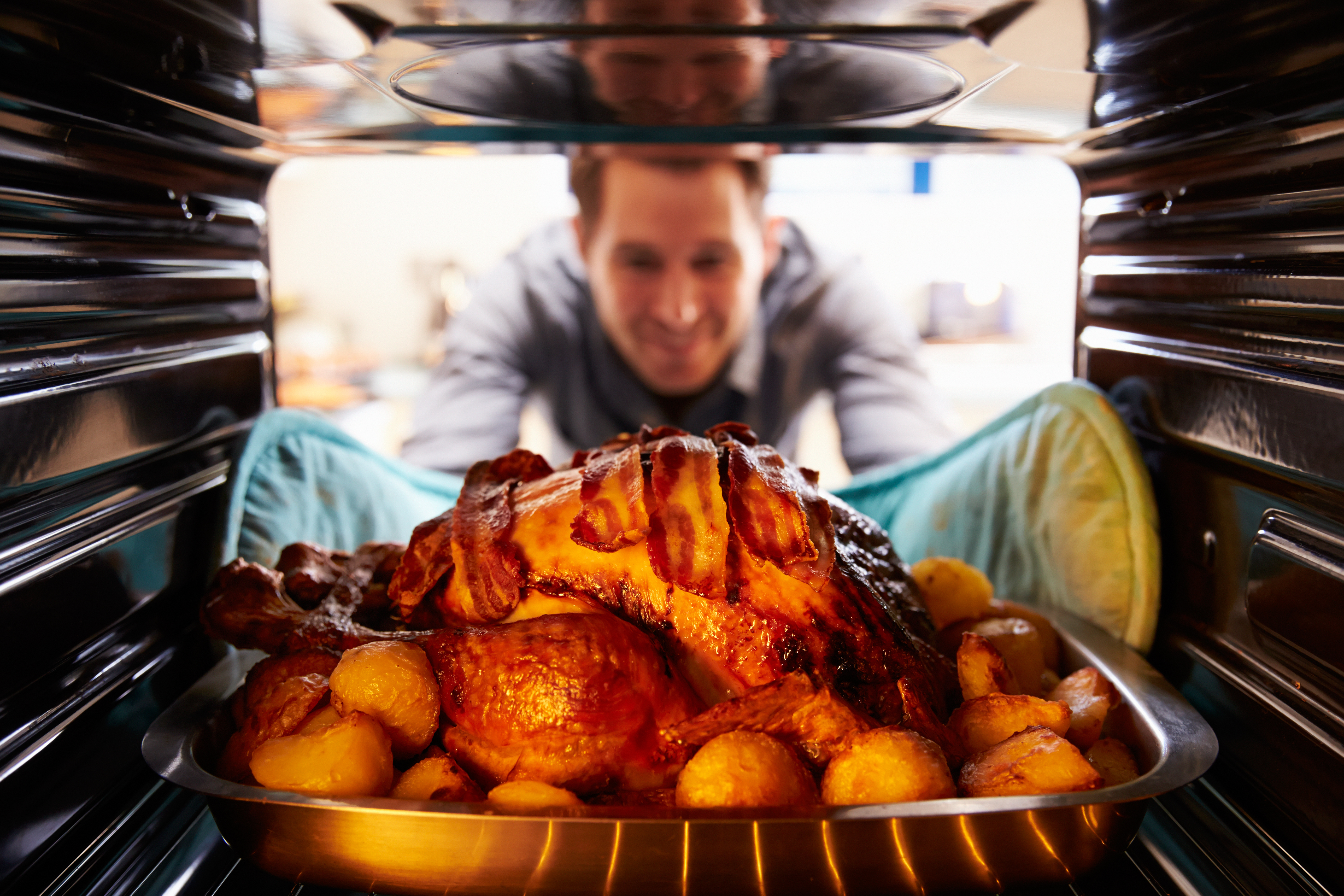 Is it cheaper to cook with gas or electric? 
As consumers, we're drawn to a good bargain. We're more conscious than ever about our fuel consumption, and while the cost of energy is constantly rising, it's important to consider the effects our appliances will have on our ongoing expenses. Understanding the effect each appliance has on your home expenditure can be just as important to a cooker user as the time it takes to cook itself. 
Whilst the running costs of gas and electric ovens use roughly the same amount of energy per year, the higher cost of electricity makes electric ovens costlier to run. Making gas cookers cheaper to run solely based on the cost of electricity compared to gas. But, while an initial saving on an electric cooker may not prove beneficial in the long run, a gas cooker may not suit your cooking requirements so it's always beneficial to consider these pro's and con's. 
As a rough guide, the average cost per year when cooking is as follows:
Cooking with a gas cooker: £28.10

Cooking with an electric cooker:  £102.54

Cooking with a

dual fuel cooker

: £60.33
Difference between gas and electric oven temperatures
Having read cooking instructions online or on the back of a packet, one key takeaway is the different measurements you will have noticed. Gas mark measurements are unique to gas cookers, whereas degrees celsius are used only for electric cookers. There is no difference in the way that the two cook the food, however. Only the ways in which they are read, and there are guides out there to convert gas marks into celsius measurements. 
If you are struggling to find a correct conversion for your oven, refer to charts such as these to get the correct temperature.
Gas Cookers
How a gas cooker works
Most gas cookers require a pilot to light the gas flow on the hob and within the oven compartment. After the gas valve has been released via the control knobs on the cooker, an additional pilot light is needed to ignite the gas and keep the flame alight. The temperature is controlled via the size of the flame, which can be controlled by twisting the knobs to increase the flow of gas. 
You may be limited by the source of fuels available in your kitchen. As freestanding gas cookers use LPG gas as fuel for cooking, your home will need access to a gas supply. 
The majority of gas cookers have the main burner at the bottom of the oven compartment, in most cases shielded by a large sheet of metal. Gas cookers also don large vents on the sides to help with the heat distribution. Gas ovens create very intense heat quickly that radiates upwards, and is particularly good at heating the compartment evenly and consistently. 
Can you install a gas cooker yourself?
Whilst there are plenty of appliances available on the market to the everyday layman, there are certain regulations in place to prevent mishaps and maintain your safety when it comes to gas appliances. 
This does not mean that you cannot install a gas cooker yourself, however you must be a Gas Safe registered engineer. According to the Gas Safety (Installation and Use) Regulations 1998, you must be competent before working on a gas appliance. There are exams pertaining to knowledge of LPG and other gas fitting skills. It is against the law to fit a gas cooker or hob without competency, and should any catastrophe happen regarding this, you are most likely to face legal action.
Benefits of a gas cooker
Gas cookers provide immediately responsive heat and can be easily controlled with dials. As the flame increases or decreases the heat itself is directly changed in correlation. 

Simmering and boiling on a gas hob is quick and easy. Gas ring burners provide even heat distribution; combined with responsive temperature changes, it allows for greater control when cooking with pots and pans.

Gas is also a much cheaper and efficient fuel than electric, and the cost of running a gas cooker over the course of a year is always cheaper than electric.

Electric Cookers
How an electric cooker works 
Obviously electric cookers require electricity to work. Instead of using a gas intake to ignite a flame, an electric cooker uses heating elements to turn electrical energy into heat energy. Temperature controls are also measured in degrees celsius rather than gas marks, and so temperature control can be maintained to a more specific degree.

The oven automatically cycles its heating elements on and off to maintain the temperature close to the desired temperature on the thermostat. Using a sensor to measure the temperature, the thermostat monitors the fluctuations in the compartment to maintain consistency. 
Can you just plug in electric cookers?
Electric cookers fall into two categories, these need to be considered before trying to install your new appliance: 
13-amp plug – cookers rated beneath 3kW run on a 13-amp plug. Some basic cookers run efficiently on a 13-amp plug, but will generally struggle maintaining heat to the hob and oven compartments simultaneously.

Hardwired – Cookers rated more than 3kW – generally more modern cookers with more intricate features, such as pyrolytic self-cleaning and rapid preheat programmes – need to be hardwired through the household wiring.
Be aware of your current appliance so you can better identify what will best suit your kitchen and needs.
Benefits of an electric cooker
As gas cookers have their perks, electric cookers also come with a plethora of benefits. 
Although gas tends to be a cheaper fuel to run, electric heats more efficiently than gas. Opting for an

induction cooker

or a

cooker with a ceramic hob

for example can dramatically reduce residual heat lost from the hob when cooking – meaning less energy wasted.

Electric cookers also tend to heat consistently, and are less prone to hot spots like some gas cookers.

Being a set temperature, and not relying on the visual aid of a flame, it's also

easier to maintain lower temperatures

with an electric cooker.

Electric hobs are also easier to clean. Without the rungs and pan stands that gas hobs require, a smooth surface allows for easier and deeper cleaning. 
Overall, there are many differences between gas cookers and electric cookers. Deciding which one is right for you solely depends on your current fittings and your preferences. Where your neighbour may prefer a gas cooker, it may not be beneficial to invest due to your current situation. Take the time to investigate what is right for you. Check out our complete range of stylish freestanding cookers for inspiration!